You may have heard, but Disney's been doing some Star Wars things in their parks lately.
Something about a Galaxy's Edge, and a Rise of the Resistance, lightsaber building, and maybe some blue milk.
But long before all of this, long before Disney was even involved in Star Wars as they are now, Star Wars still had a presence in Disney Parks. In this post, we're going all the way back to the 1980s to see how this all got started.
Believe it or not, Star Wars being a part of your Disney vacation can be attributed in some ways to none other than Michael Jackson. Yep, you read that right. In the mid 80s, Disney started working with George Lucas, bringing him on as a writer and executive producer for Captain EO, a 3D film starring the King of Pop complete with in-theater effects. (So those 4D movies you think are so new and cutting edge? Maybe not as much as you think).
At roughly the same time, Disney was looking to create a motion simulator ride based on The Black Hole – which ended up not working out. Instead of scrapping the idea completely, Disney pitched it to Lucas as a Star Wars themed ride. One of the early pitch meetings went something like this:
Tom Fitzgerald, now a senior creative executive with Walt Disney Imagineering, was the attraction's writer and producer and worked closely with George and people like Dennis Muren, an eight-time Academy Award winner at Lucasfilm's Industrial Light and Magic (ILM). "I remember a key review up at ILM with George Lucas, where (creative director) Tony Baxter and I traveled up to present the original storyline for Star Tours," Tom recalls. It was there that George set up the idea of combining comedy adventure as well as the classic 'something goes horribly wrong' for the storyline. I still think of it as an incredible Master Class and one of the highlights of my career."

(From "Star Tours at 30: Celebrating Three Decades of Star Wars at Disney Parks" – originally written by Steve Sansweet for Disney twenty-three magazine)
With George and Lucasfilm on board, Disney went about purchasing four military-grade aircraft simulators. These would be your ride vehicles, which were capable of a range of motions, including rolling up to 35 degrees. Industrial Light & Magic were responsible for creating the first person ride video. After all was said and done, Star Tours ended up costing a cool $32 million. It opened January 9, 1987, and Disneyland actually stayed open for 60 hours so that all of their guests could have a chance to board their ill-fated shuttle. Two years later in 1989, the attraction would come to Tokyo in July and then Walt Disney World in December at the newly opened Disney-MGM Studios (now Disney's Hollywood Studios). It opened in Disneyland Paris a few years after that in April 1992.
As you enetered the queue, you saw immediately that this was set up as a terminal of sorts. You might feel like you're making your way into an airport, actually. Your destination: the forest moon of Endor. And to get you there, you have a nervous little droid with the designation RX-24 (or Rex, for short).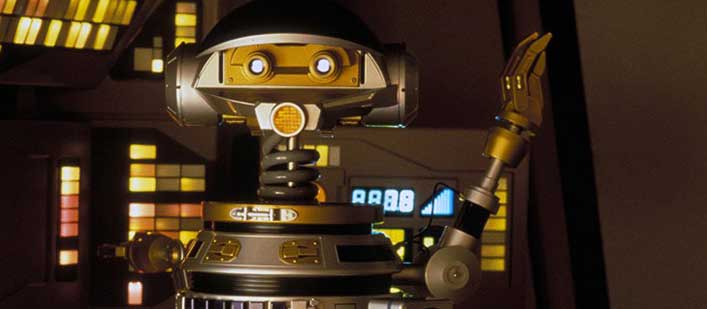 The queue was really a sight to behold, filled with animatronic droids and even a life-sized model of the Starspeeder 3000 (the transport you're taking to Endor). I didn't make my first trip to a Disney Park until I was 16 in 2001, but even then I was blown away with this queue. At Walt Disney World, you start with a huge AT-AT right outside the attraction, one which I can't help but get about a dozen pictures of every time I see it. But when you got inside and saw these droids come to life (including R2-D2 and C-3PO), it just immediately brought you into that world.
After making your way through the queue, though, the adventure takes off (pun not intended, I promise). I'll include a ride through video below, but the gist of the story is that while on your way to Endor, Rex (who is still getting used to his programming) doesn't get the lightspeed jumps quite right. In fact, you end up first in an asteroid field. And once you're out of danger there, you're staring down an Imperial Star Destroyer that tries to bring you in with their tractor beam. Once you escape that situation with a little help from an X-wing pilot, you're escorted on a mission to blow up a new Death Star (this is Star Wars, after all) complete with a trench run. Finally free of all perils, you lightspeed jump back to the terminal to finish off your tour with a bang – quite literally as you crash land.
Star Tours ran chaotic trips to Endor all the way until 2010 in the US-based parks (2012 in Tokyo and 2016 in Paris) when it was replaced by an updated version of the attraction. The new Star Tours (titled Star Tours: The Adventures Continue) is still a motion simulator ride, but now complete with 3D effects and interchangable scenes that not only can be swapped out when new films and content hit theaters, but are actually swapped out each ride. You can now have a different ride almost any time you board.
But if you're like me and end up yearning for those flights to Endor, check out the video below (credit to Attractions Magazine, a GREAT resource for all your theme park needs). This was actually recorded during the Final Flight event in 2010, which gave D23 members a chance to ride the classic version of the attraction one last time before going dark.
I hope you enjoyed this little trip back in time to look at the early days of Star Wars attractions in Disney Parks. Galaxy's Edge seems to be an incredible step up in all aspects of your Star Wars experience, and it's only going to get better. But I'll never forget the first time I felt like I was in a Star Wars movie, and for that reason, the original Star Tours will always be worth revisiting.
Sources: